Electrical Crucible Furnace
with Sic Heaters Furnace
Crucible Type Melting Furnaces, Electrical Crucible Furnaces Manufacturer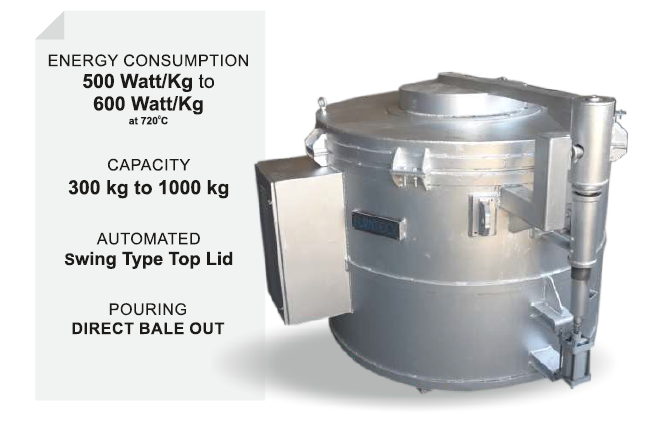 Crucible Type Melting Furnace / Electrical Crucible Furnaces
These furnaces are suitable for HPDC / GDC shops where production rates are very low or metal quality is extremely crucial and only electric melting is requires. Being Batch type indirectly heatedfurnaces, the furnaces have comparatively higher energy consumption. Recurring cost of CRUCIBLE is also one of the concern since it drastically affects production in case of sudden failure.
Energy consumption < 10 Kwh to 11 Kwh for 500Kg holding furnace.
Easily replaceable SiC heaters without removing the cricible
PID controlled heating system with THYRISTER drive
Temperature control within +-50C
Capacities ranging from 50 Kgs to 1000 Kgs
Fuel fired models also available.